Why screw caps for the Quartier Lander product range?
I got a lot of feedback on using screw caps : many think that it's too bad not to use cork stoppers. This deserves some explanation ! Corks are of natural origin and are very traditional ; linked to the ritual which accompanies opening the bottle. It's also a stopper which lets gaseous exchanges occur with the outside, and thus oxygen. This phenomena is very interesting for wines suitable for ageing, but this is not the case for Quartier Lander wines.
The principle of my wine maturing is micro-oxygenate wine to completely integrate wood-based components (used in combination with oxygenation); The wine is ready to drink when it is bottled. This delicate operation is carefully carried out at the end of maturation in order to best preserve the organoleptic potential of the wine.
As such, once is the wine is closed in the bottled, oxygenation is no longer desirable. Screw caps are stoppers which are more airtight than cork stoppers and therefore more adapted to my wines. In addition, they eliminate the risk of « bad cork flavour ». And finally you have to admit that it's practical to be able to open a bottle without a cork screw ! (during a picnic for example).
You know that I haven't done this as a whim or a fantasy , but rather a well thought out conviction. I understand that it takes away some charm, but should we stop at that when the flavour is good ?
It's the eagerly awaited moment when we're finally going to able to discover these famous cuvées (vintages)! But here you are in front of the bottle and you feel apprehensive. Am I going to know how to taste the wine, to appreciate it, this wine that I have been following for a long time? No reason to panic, wine tasting is foremost a question of taste : you like it or you don't.
Then, if you want to, you can try to explain why you like it or not. This is where experience comes in, the emotional response. This is the subjective side to wine tasting, which oftentimes is overriding since we call more on memories than on our senses. For example, a smell from our childhood, associated with a happy or unhappy event, will strongly influence our perception of the wine.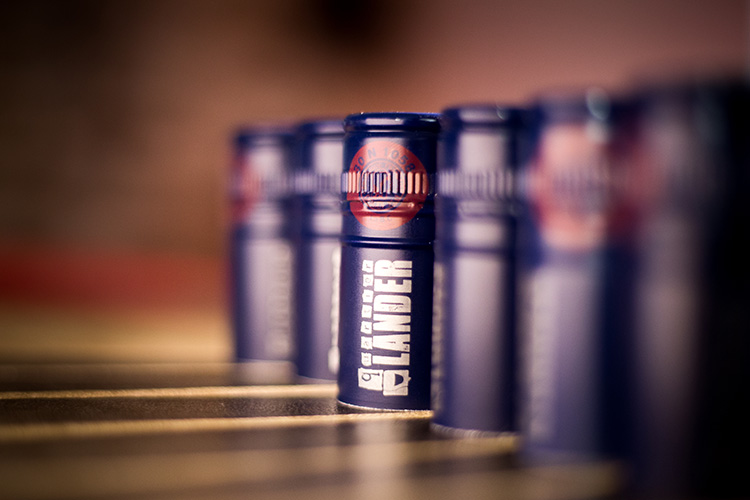 A reliable partner for bottling
For bottling Quartier Lander wines, I work with a service provider I have complete confidence in and who fully masters the required techniques. It's a mobile line bottler (Denis Legras packaging), who goes with his mobile line from estate to estate. The logistics and the materiel are amazing and deserve being checked out ! If you have the opportunity to stop on one of these days, you're obviously very welcome !